| | |
| --- | --- |
| Members Talk to Members and Friends | search the society and FOLTC web sites |
This series of talks enabled La Trobe Society members to make presentations on topics that they had researched or in which they had a particular interest, in the field of Victorian colonial development and aspects of life in early Melbourne and beyond.
---
Sunday June 10
Georgiana McCrae and her 'Favorite' Music
Presenter: Dr Rosemary Richards, with accompanying musicians.
Collecting handwritten music was a fashionable practice in Britain and its empire during the nineteenth century. Georgiana McCrae (1804–1890) brought three of her manuscript music collections from Britain and continued to transcribe and share music after she arrived in Melbourne in 1841. Her fourth collection, bound as a manuscript in Melbourne in 1856, contains references to her friendship with the La Trobe family. While her manuscript music collections reveal her musical preferences, they also functioned as a form of diary over thirty years of her life. They uncover clues to her musical education in London, her identification with her aristocratic Scottish Gordon relatives, and her maintenance of connections with Britain during her 'exile' as an unwilling migrant to a distant colony. This talk explored Georgiana McCrae's 'favorite' music and the way in which surviving manuscript music collections can shed light on the musical lives of the individual collector as well as wider issues of migrant and colonial history.
---
Sunday July 8

Edward Byam Wight: Civic Leader, Philanthropist and Friend of La Trobe
Presenter: Davydd Shaw
Edward Byam Wight (1815-1900) and Catherine Philpott (1824-1910) arrived independent of each other in Melbourne in 1841. The demise in the early 19th century of the cotton and woollen mills in Gloucestershire and the resulting movement of population, provided the impetus for Edward and Catherine's immigration to Australia. Their marriage and subsequent life in Port Phillip was profitable and rewarding. Edward was a man of his time, well suited to the expansion of the colony and the opportunities that were available to a man with capital resources, enterprise and strong Christian beliefs. In the small settlement of Melbourne his friendship with La Trobe was almost inevitable, especially given La Trobe's desire for good governance, public institutions and the creation of a stable and civilised community. Wight's contribution to Victoria was significant as a businessman, company director and philanthropist and continued up to his death in 1900.
---
Sunday August 12
La Trobe and his Horses – Testing Times
Presenter: Peter Hiscock AM
The horse as a major player in the settlement of the Port Phillip District is often neglected in the historical narrative. Their arrival and role in the establishment of the early settlement can be seen as an indicator of the testing times endured by both the horses and the new settlers. In his talk, Peter Hiscock will focus on various aspects of La Trobe's horses in Port Phillip by examining their likely blood-lines; their procurement, including thwarted calamities at sea, and other difficulties the new Superintendent would have faced in looking to his own and his family members' mobility. La Trobe's frequent lengthy rides were demanding on both man and horse given the uncertainty of tracks, terrain and weather. In La Trobe's time horses were working animals and they were worked hard, particularly during the gold-rush years. La Trobe's routine rides to and from Geelong or the Peninsula, sometimes mentioned dismissively, as well as his many exploratory expeditions, would have honed his sense of direction and his eye for landmarks. La Trobe's long rides were indeed testing times for both the man and his mount.
---
Sunday September 9
Gulf Station: a fascinating farm of the La Trobe era
Presenter: Irene Kearsey
Gulf Station, the historic farm at Yarra Glen, was established during the 1840s by a Scot, John Dickson. In 1843 Dickson and his wife Alice Dalrymple married and moved to Gulf Station to live. While his descendants know very little about him, Dickson had some intriguing links to various well-known and obscure personalities of the early days of the Port Phillip settlement. One was a surgeon who stayed at Gulf Station after being involved with a dramatic sea rescue. Sufficient evidence of Dickson's life exists to trace details of his farm, his neighbours and his life on the Yarra Flats. He sold Gulf Station to William Bell and Thomas Armstrong in 1854 and the Bell family retained the property until the 1950s. Acquired by the National Trust in 1976 its restored buildings and cottage garden illustrate Gulf Station's place in Victorian history as a rare survivor of the La Trobe era. This talk elaborated on Irene's research into the Dickson and Bell families and their ownership of Gulf Station.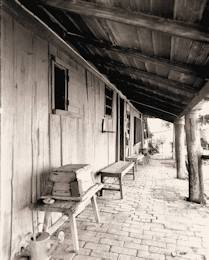 ---
See also other Events that you may attend.