| | |
| --- | --- |
| Membership | search the society and FOLTC web sites |
The C J La Trobe Society Inc. was established in 2001 to promote understanding and appreciation of the life, work and times of Charles Joseph La Trobe, Superintendent of the Port Phillip District of New South Wales from 1839, and first Lieutenant-Governor of the new colony of Victoria after separation in 1851.
The Society celebrates La Trobe's birthday annually, hosts lectures, special functions and other events throughout the year, and distributes the journal, La Trobeana, to members three times per year. In 2006, the Society erected on the forecourt of the State Library of Victoria a bronze statue by sculptor Peter Corlett OAM to commemorate La Trobe's vision for Victoria.
Aims of the Society include the facilitation of a Fellowship at the State Library of Victoria in La Trobe's name for the study of the colonial period of Victoria's history and, through the Friends of La Trobe's Cottage, active support of the National Trust of Australia (Victoria) in maintaining and promoting La Trobe's Cottage.
Membership subscriptions are due at the Annual General Meeting each year.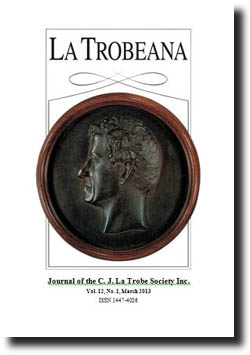 Click to see back issues