| | |
| --- | --- |
| The Committee of the C J La Trobe Society Inc. | search the society and FOLTC web sites |
PRESIDENT
Diane Gardiner AM
Diane Gardiner was the Chair of the History Council of Victoria and was Manager of the Old Treasury Building, Melbourne. She was previously Manager of Community Access at the Public Record Office Victoria, and Manager Education and Public Programs at the Old Melbourne Gaol, National Trust of Australia (Victoria). She is a foundation member of the La Trobe Society and has many years' experience in developing innovative and successful programs to link schools with community history groups. Diane was a recipient of a Winston Churchill Memorial Fellowship in 2002 and the Museums Australia (Victoria) Award for Excellence in 2013.
VICE PRESIDENT
Loreen Chambers
Loreen Chambers is a retired secondary teacher who taught History, English and Geography during a career of over 30 years. She taught at Scotch College and Camberwell Girls Grammar, but chiefly at Lauriston Girls School where she was Head of History, amongst other senior roles. Her main interests are British and Australian History, with particular focus on the 18th and 19th century period, as well as family history. Loreen was the editor of the Society's journal La Trobeana from 2009 to 2015.
SECRETARY
Dianne Reilly AM
Co-founder of the La Trobe Society, Dianne Reilly is the Society's Secretary. She was the La Trobe Librarian at State Library Victoria from 1982 to 2008, and Manager of the Redmond Barry Society, bequest arm of the State Library Victoria Foundation, from 2009 to 2014. Dianne is a Fellow of the Royal Historical Society of Victoria and an Honorary Fellow of the School of Historical and Philosophical Studies at the University of Melbourne. Her doctoral thesis was titled 'Charles Joseph La Trobe: the Making of a Governor'. Dianne has published extensively on La Trobe and is currently working on the manuscript for a book 'La Trobe's Melbourne...and Beyond'.
MANAGER/TREASURER
John Drury OAM
Co-founder of the La Trobe Society, John Drury is its Treasurer. He is a consultant designer to the museums showcase industry. He has a life-long love of history, and wrote Charles Joseph La Trobe: the Making of a Statue (2010). He is currently researching the biography of Berthe Mouchette, founder of the Alliance Française in Australia.
EDITORIAL COMMITTEE
Helen Armstrong
Helen Armstrong is a retired librarian who worked in various roles at The University of Melbourne Library, followed thereafter by guiding at heritage properties - including Government House and La Trobe's Cottage. She has developed a deep interest in Victoria's early history, particularly in the life and times of Charles Joseph La Trobe.
Susan Priestley
Susan Priestley is a freelance historian currently extending her absorbing interest in biography as a PhD candidate with the Centre for National Biography at the Australian National University. She is a founding member and former Vice-President of the La Trobe Society, and a Fellow and former President of the Royal Historical Society of Victoria. Her eleven published histories embrace aspects of places, people and institutions in Victoria. In 2011 she published a life of the charismatic Henrietta Dugdale.
John Botham, picture editing
Dianne Reilly AM, commissioning editor
Loreen Chambers

Building on the work of foundation Editor, Dr Fay Woodhouse, the Editorial Committee produces the Society's journal, La Trobeana, three times a year in March, July and November.
EVENTS COMMITTEE
Shirley Goldsworthy
Shirley Goldsworthy is a museologist and archivist. She has had a career in the arts, holding curatorial and collection management positions in both public and private institutions. With her own business she provides a service to private collectors and has published many articles relating to the importance and care of material culture. She is an active member of the Australian Garden History Society and has held committee portfolios on State and National committees.
Loreen Chambers
John Drury OAM
Dianne Reilly AM, Convenor
THE FRIENDS OF LA TROBE'S COTTAGE
John Botham
John Botham spent a career in the RAF and with the Civil Aviation Safety Authority before developing an interest in early Victorian history. He assisted with the production of La Trobe's Jolimont, A walk round my garden (2006) and worked tirelessly thereafter to develop an understanding amongst government and the public of the heritage importance of the La Trobe's Cottage.
MINUTE SECRETARY
Shirley Goldsworthy
WEBMASTER
John Botham

Helen Armstrong, website editor.
CO-FOUNDER, PAST PRESIDENTS & FORMER COMMITTEE MEMBERS
Richard Heathcote
Richard Heathcote was a co-founder of the La Trobe Society with John Drury and Dianne Reilly. He served as Vice-President from 2001 until 2005 when he left Victoria to take up his position as Director of Carrick Hill Estate in South Australia.
W Bruce Nixon
Bruce Nixon was the first President of the La Trobe Society, retiring towards the end of 2001 due to ill-health. He was the Publisher of two works on Charles Joseph La Trobe:
Charles Joseph La Trobe: Landscapes and Sketches, State Library of Victoria in association with Tarcoola Press and the National Trust of Australia (Victoria), 1999, and
Charles Joseph La Trobe: Australian Notes 1839-1854, Tarcoola Press in association with the State Library of Victoria and Boz Publishing, 2006.
Professor A G L Shaw AO
Alan Shaw had degrees from The Universities of Melbourne, Oxford and Newcastle. He taught history at Melbourne, Sydney and Monash Universities. Amongst his numerous publications, his works included A History of the Port Phillip District (1996), Gipps-La Trobe Correspondence (1989), Sir George Arthur 1784-1854: A Biography (1980), Convicts and the Colonies (1966 and 1977), The Story of Australia (1960), Economic Development of Australia (1944, 1980), and Modern World History (1961). He was President of the La Trobe Society from 2002 to 2003.
Rodney Davidson AO OBE
Rodney Disney Davidson, was by profession, a solicitor and a company director. He was for many years also a patron of Victoria's arts and heritage. Rodney was Emeritus President and Emeritus Chairman of the National Trust and was appointed President of the La Trobe Society in 2003, which position he held until 2009. He was President of the Friends of the Baillieu Library from 1978 to 1996 and its Patron from 2002 to 2016; he was Chairman of the W R Johnston Trust from 1995 to 2009.
Professor John Barnes
John Barnes, MA (Melb), MA (Cantab) is Emeritus Professor of English at La Trobe University where he taught for 25 years specialising in Australian literature. He edited The La Trobe Journal for the State Library of Victoria Foundation from 1998 to 2007 and was a committee member of the La Trobe Society from 2003 to 2006. John's interest in La Trobe has a personal aspect, as his great-grandmother came from a Swiss family which emigrated to Victoria from the canton of Neuchâtel in 1854. His biography, La Trobe: Traveller, Writer, Governor, was published in 2017: 'a fresh, well-rounded view of a civilised man', Andrew Lemon.
Peter Corlett OAM
Peter Corlett is a leading sculptor, who has contributed many fine works to the Australian and international landscape. He is best known for his full-figure sculptures cast in bronze, especially his memorial works. His portrait C J La Trobe, commissioned by the La Trobe Society and unveiled by our patron, the then Governor of Victoria, Professor David de Krester, on the forecourt of the State Library of Victoria in November 2006, is one of his finest works. Other commissions have included Sir Edward "Weary" Dunlop (1995, Canberra and Melbourne), Cobbers (1998, Fromelles), Four Victorian Premiers (1999, Treasury Place, Melbourne) and Australian Lighthorse memorial (2008, Be'er Sheva, Israel). Peter was a member of the committee from 2010 and joint Vice-President from 2011 to 2013.
Peter Lovell
Peter Lovell is a Director of Lovell Chen, a contemporary architectural practice with more than 30 years experience in design and heritage. An established authority in the field of conservation, research and investigation, Peter's deep understanding of traditional materials and methods expands the range and possibilities of contemporary designs, as well as underwriting the role of Lovell Chen as expert witnesses and consultants to national and state statutory planning and heritage bodies. Peter is a foundation member of the La Trobe Society and served as Acting President in 2010.

Robyn Riddett
Robyn is an architectural historian, an interior designer and a heritage consultant. She is a director of Anthemion Consultancies, a former associate director at Lovell Chen and a past president of Australia ICOMOS (International Council on Monuments and Sites). Robyn served on the Editorial Committee of the La Trobe Society from 2009 to 2010.
Judith Ryles OAM
Judith Ryles is a Fellow of the Home Economics Institute of Australia and was a Senior Lecturer in Food and Nutrition at Deakin University. She is a director of the Ursula Hoff Institute, a member of the University of Melbourne Animal Ethics Committee, a member of the National Council of Women of Victoria, founding member of the Redmond Barry Society, and a founding donor of the Felton Society of the National Gallery of Victoria. Judith served on the Events Committee from 2010 to 2016.
Tim Gatehouse
Tim is a retired solicitor with interests in historical research and archaeology. He is an eighth generation descendant of Henry Antes, the leader of the Moravian community in Pennsylvania in the mid-eighteenth century, who was the great-grandfather of Charles Joseph La Trobe. Tim served on the committee from 2012 to 2014.

Lorraine Finlay
Lorraine Finlay is the former owner/manager of a Melbourne commercial art gallery. She previously worked in the Old Treasury Building Museum and was a personal assistant to the curators and educational services at the National Gallery of Victoria. In her role as Volunteer Property Manager of La Trobe's Cottage, Lorraine was a member of the committee from 2011 to 2016.
Fay Woodhouse
Fay Woodhouse is a professional historian who has written histories for the university, public, community and private sectors. In 2017 she edited and published Robert Russell: artist of early Melbourne by Patricia Hawkins. Fay is a Fellow of the School of Historical and Philosophical Studies, University of Melbourne, and a Victorian researcher for the Australian Dictionary of Biography. She was editor of La Trobeana, 2002-2008, and a continuing member of the Editorial Committee from 2014 to the present. She also served on the Events Committee.
Daryl Ross
Daryl Ross is a retired business executive and former export consultant. His Swiss great-grandfather, Louis Ernest Leuba, was one of a number of enterprising young Swiss who settled in Victoria during the early 1850s. Daryl's interest in the family associations with Neuchâtel, which he has visited many times, triggered his interest in the La Trobe Society when it was first formed. He served on the Committee from 2010 to 2018, and was Vice Chair until 2016, then subsequently a member of the Events Committee.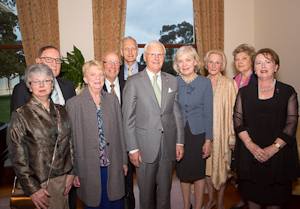 Selected members of the Committee October 2014 with the then Governor The Hon Alex Chernov and Mrs Chernov